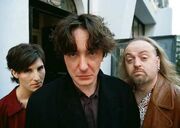 Black Books was a channel 4 Comedy series created by Dylan Moran and Graham Linehan and starring Dylan Moran, Bill Bailey and Tamsin Greig and the supposed "sister show" to Spaced.
Overview
Edit
Also set in North London, the show focused on the the lives of three friends, Bernard Black (Moran), the rude and obnoxious owner of the bookshop Black Books, Manny Bianco (Bailey), Bernard's long-suffering assistant, and Fran Katzenjammer (Greig), the owner of the shop nextdoor. The show ran from 2000 to 2004 and featured many actors from Spaced. The audio commentary of Shaun of the Dead states that the producers consider Black Books to be the "sister show" of Spaced. Unlike Spaced, Black Books has a laughter track.
People who have worked on both series
Edit
Additionally, in the episode He's Leaving Home, Manny is heard speaking (over the phone) to Twist.
As well as this, all three main cast members of Black Books have appeared, at some point, in the Three Flavours Cornetto Trilogy.
The Office and other shows featuring actors from SpacedEdit
David Brent supposedly cameod in the penultimate episode of Spaced, still played by Ricky Gervais. The Office co-star Martin Freeman, as well as appearing in the Cornetto films, appeared in the first episode of Black Books.
I'm Alan Partridge featured Simon Pegg, Julia Deakin and Kevin Eldon.
External Links
Edit